Today we bring you a list of the greatest actors that never won an Oscar even if they had amazing characters in great movies…
SEE ALSO: HOLLYWOOD VINTAGE MANSIONS FROM THE TOP A-LIST
Poor Leonardo DiCaprio is fast becoming known as much for his lack of Oscars, as he is his movies. Nominated for Best Supporting Actor in 1994 – losing out to Tommy Lee Jones (The Fugitive) – and Best Actor in 2005 and 2007 – losing out to Jamie Foxx (Ray) and Forest Whitaker (Last King of Scotland) on those occasions – it's an injustice to many that he's never won one; Titanic sweeped eleven and he still didn't collect one of his own.
The joke perhaps reached a peak last week, with "I want you more than an Oscar" memes featuring Leo circling in time for Valentine's Day. DiCaprio's not alone though; the history books are littered with the greatest actors who have smashed box office records and captivated critics, but never picked up an Academy Award. It certainly hasn't always been a reliable measurement for subtle skill; Sylvester Stallone picked up a nomination for Rocky, after all.
Here are fifteen greatest actors of Hollywood that have never won an Oscar. Leonardo DiCaprio still is in good company.
Donald Shuterland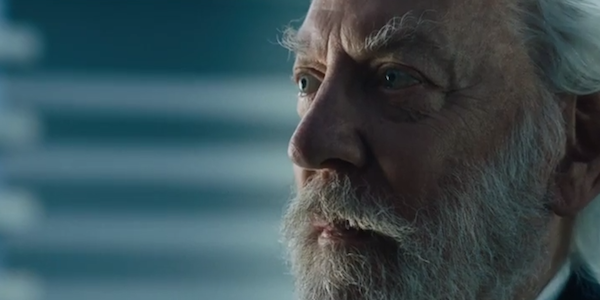 Recently seen in the Hunger Games series, Canadian screen legend Donald Sutherland has been acting for fifty years, but has shockingly never even been nominated for an Academy Award.
A star of the 1960s, perhaps Sutherland's best shot at a gong was with his role in M*A*S*H*, as Hawkeye. The Golden Globes recognised him, nominating him for Best Actor, but the Oscars didn't; John Wayne instead won Best Actor that year, for his role in True Grit – controversially for many, who saw it as a 'thanks-for-the-career' award – though M*A*S*H* was nominated for Best Picture. Eleven years later, history repeated itself; Sutherland received a Golden Globe for his role in Ordinary People, but was snubbed by the Oscars, who again gave Sutherland's movie Best Picture.
Robert De Niro won Best Actor that year for Raging Bull, beating the likes of John Hurt and Jack Lemmon to the award. Hurt himself has only picked up one, and that was the Outstanding British Contribution to Cinema in 2006.
Johnny Depp
He's more known for formulaic collaborations with Tim Burton these days, but Johnny Depp also has a star on the Hollywood Walk of Fame. Rightly so too; he's one of the most talented character actors for a generation, critically acclaimed in a plethora of lead roles, but despite being nominated three times for the Oscars, Depp has never actually won one.
Depp earned the nods in 2003 for Captain Jack Sparrow (Pirates of the Caribbean), 2004 for J. M. Barrie (Finding Neverland) and 2007 for Sweeney Todd (Sweeney Todd: The Demon Barber of Fleet Street), but lost out on each occasion to Sean Penn (Mystic River), Jamie Foxx (Ray) and Daniel Day-Lewis (There Will Be Blood) respectively. He's also never won a BAFTA and has only won one Golden Globe, for Sweeney Todd; considering he's more popular with the public than critics, is it really that shocking?
No, but surely a man as gifted as Johnny Depp should have won an Academy Award. As it is, his most famous association with awards ceremonies is probably his appearance at the Golden Globes in 2011, when Ricky Gervais publicly stated his movie The Tourist. Maybe an Oscar one day win could change all of that?
Alan Rickman
Always reliable as a baddie, occasionally as a grumpy anti-hero, Alan Rickman is one of the unsung heroes of British cinema. His recent role in Harry Potter, catapulting him into global limelight, is perhaps most indicative of his talents; Rickman's dark, often witty and incredibly consistent performance earned him new fans aplenty.
In light of the Potter franchise, there were countless campaigns to ensure Rickman was recognised as a Best Supporting Actor candidate at the Oscars. On eight occasions though, the Academy Awards chose to not even nominate him for his part as Snape; his roles in Truly, Madly, Deeply and Rasputin: Dark Servant of Destiny also went unnoticed, and though Rickman's only managed to scoop a single award at both the BAFTAs and the Golden Globes, it's seems an oversight that the Oscars haven't nominated him at all.
There's still time, but given that the biggest role of his career's over now, and that Rickman's 67 now – a surprising fact, given his agelessness as Snape – he'll probably remain one of the great actors to never win an award.
Tom Cruise
He may be remembered for his endless slew of action flicks, but it's a surprise that Tom Cruise has never won an Oscar, given how many critically-adored films he's been a part of, and performing next to the greatest actors (as himself).
Cruise has received three nominations though, the last one being in 2000; he was nominated in 1990 and 1997 for Best Actor (Born On The Fourth Of July and Jerry Maguire respectively) and in 2000 for Best Supporting Actor (Magnolia). Interestingly, he picked up the equivalent Golden Globe for all three films; he's also seen his lead roles in Vanilla Sky, Minority Report, The Last Samurai, Collateral and Valkyrie all nominated for Saturn Awards.
Cruise's best shot at an Oscar was probably Jerry Maguire though; the movie was nominated for five awards, including Best Picture, and Cruise eventually lost out to Geoffrey Rush (Shine). The only award that the movie did take home that night was for Cuba Gooding Jr's turn: he won Best Supporting Actor.
Liam Neeson
He's played Aslan, Obi-Wan Kenobi's master, Oskar Schindler and even Zeus, but still the big authority figure of Hollywood, Liam Neeson, doesn't have an Oscar in his trophy cabinet.
Schindler's List was nominated for 12 Academy Awards in 1994, scooping seven, including Best Picture and Best Director for Steven Spielberg. In the Best Actor category though, Neeson was pipped to the award by Tom Hanks (Philadelphia); Ralph Fiennes was also beaten to Best Supporting Actor, along with Leonardo DiCaprio, by Tommy Lee Jones (The Fugitive). Neeson was also nominated for a Golden Globe that year, but that particular Best Actor gong also went to Hanks.
In fact, Neeson's trophy cabinet isn't particularly full at all; perhaps most surprisingly, he's never won a BAFTA either. Again, he was nominated for his part as Oskar Schindler, but that award went to Anthony Hopkins (Shadowland). Maybe the most notable award he's ever picked up is Best Actor at the Irish Film awards, for Kinsey; better than nothing, I guess.
Gary Oldman
Gary Oldman declared on the Graham Norton Show the other week, perhaps surprisingly, that he was the highest-grossing actor of all time. Though Tom Hanks might have something to say about that, there's no denying that Oldman's had one of the most fruitful careers of any Hollywood actor; he's appeared in the franchises such as Harry Potter and Christopher Nolan's Batman trilogy, and even made a cameo in sitcom Friends.
Oldman has only ever been nominated for one Academy Award though, in 2011; his role as George Smiley in Tinker Tailor Soldier Spy eventually lost out to Jean Dujardin in The Artist. His parts in Sid & Nancy, JFK, Bram Stoker's Dracula, True Romance, Leon, The Fifth Element, The Dark Knight and Lawless all went unnoticed by the Oscars though, and given the mixed reviews of RoboCop, that's unlikely to change any time soon.
Oldman did however win two BAFTAs for his 1997 movie Nil By Mouth – which he wrote, directed and produced – in the Best British Film and Best Original Screenplay categories. Apparently, he has as much talent behind the lens as it front of it.
Brad Pitt
An A-lister in Hollywood for over twenty years, and one of the most prolific actors and producers of his generation, it's perhaps a surprise that Brad Pitt has only ever won a single Golden Globe, and has never picked up an Academy Award.
Pitt has received five nominations though. In 1995, he was a candidate in the Best Supporting Actor category for his role in Terry Gilliam movie 12 Monkeys, but lost out to Kevin Spacey (The Usual Suspects); he would go on to receive Best Actor nods in 2008 and 2011 for Benjamin Button and Moneyball, only to lose the awards to Sean Penn (Milk) and Jean Dujardin (The Artist) respectively. Moneyball was also nominated for Best Picture, giving Pitt a chance at a gong for his producer's role, but again, The Artist triumphed.
This year, Pitt has perhaps his best shot at an Oscar, again in the Best Picture category; 12 Years A Slave is up against the likes of Gravity, American Hustle, Captain Phillips, Philomena and The Wolf Of Wall Street. Can the movie end Brad Pitt's Oscars duck though?
Leonardo DiCaprio
Leonardo DiCaprio is an American actor whose portrayal of doomed suitor Jack Dawson in Titanic made him a generation's definition of a heartthrob. Throughout his career, DiCaprio has demonstrated a high level of dramatic versatility, from his breakout film role as a mentally-challenged teenager in Gilbert Grape.
Robert Downey Jr.
Born in Manhattan, New York, on April 4, 1965, Robert Downey Jr. made his debut as an actor at the age of five in the film Pound, written and directed by his father, Robert Downey Sr., and since that early role, Robert Downey Jr. has amassed an enviable list of credits and honors throughout a four-decades-plus career that shows no signs of slowing.
Harrison Ford
Harrison Ford was born on July 13, 1942 in Chicago, Illinois. His father had Irish and German ancestry, and his maternal grandparents were Jewish immigrants from the Russian Empire. He was a lackluster student at Maine Township High School East in Park Ridge Illinois (no athletic star, never above a C average)
Samuel L. Jackson
Samuel L. Jackson usually played bad guys and drug addicts before becoming an action hero, as the character Mitch Henessey, in A Profissional and in Die Hard. From character player to leading man. His performance in Pulp Fiction gave him an Oscar nomination for his character Jules Winnfield.
Jude Law
Jude Law was born on December 29, 1972 in southeast London, England. He started acting with the National Youth Music Theatre at the age of 12, and, at 17, he dropped out of school completely, to star in the Granada daytime soap opera Families. In 1992, Jude began his stage career. He starred in many plays throughout London.
Richard Gere
Humanitarian and actor, Richard Gere was born on August 31, 1949, in Philadelphia. The second of five children of Doris (Tiffany) and Homer Gere, an insurance salesman. Richard started early as a musician, playing a number of instruments in high school and writing music for high school productions. He graduated from North Syracuse Central High School in 1967. One of the greatest actors performing next to the most beautiful actresses too.
Hugh Jackman
Born in Sydney, to English parents, and the youngest of five children, Jackman has a communications degree with a journalism major from the University of Technology Sydney. After graduating, he pursued drama at the Western Australian Academy of Performing Arts, immediately after which he was offered a starring role in the ABC-TV prison drama Correlli.
Will Smith
Will Smith was the second of four children of Caroline (school board employee) and Willard C. Smith Sr. (owner of a refrigeration company). He grew up in a middle class area in West Philadelphia called Wynnefield. Will attended the Overbrook High School located in the Overbrook section of Philadelphia. He is now one of the greatest actors with amazing movies where he perfomed the principal character but never won an oscar.
John Travolta
One of six children born to Helen Travolta and Salvatore Travolta became one of the greatest actors of all times…, John Travolta grew up in Englewood, New Jersey. His father owned a tire repair shop called Travolta Tires in Hillsdale, NJ. Travolta appeared in a local production of "Who'll Save the Plowboy?". His mother enrolled him in a drama school in New York.
Bruce Willis
Actor and musician Bruce Willis is well known for his film appearances as wisecracking or hard-edged characters, often in spectacular action films next to other greatest actors too. Collectively, he has appeared in films that have grossed in excess of $2.5 billion USD placing him in the top ten stars in terms of box office receipts.
Jim Carry
The youngest of four children born to Percy (an accountant and aspiring jazz saxophonist) and Kathleen, Jim Carrey was an incurable extrovert from day one and now one of the greatest actors in comedy-drama history. As a child he performed constantly, for anyone who would watch, and even mailed his résumé to The Carol Burnett Show at age 10. In junior high he was granted.
SEE ALSO: THE CASTLE NEXT DOOR – THE NOVOGRATZ FAMILY TAKES
We wanted to bring you a selection of the greatest actors that never won an oscar.